Viola da Gamba bows
The 'traditional' gamba bow is extremely long - and therefore pretty much exclusively snakewood. But for earlier music (early 17th century consort music, for example), a shorter, lighter indigenous wood seems appropriate. This below is made from cherry: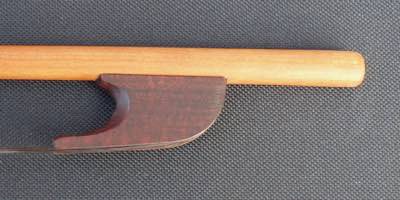 This bow is also available in beech, yew, plum, pear (or
Elsbeer
), and maple, each with its own characteristic sound and feel.
Here is a short gamba bow of ebony with a bone frog. It was actually made for the violin, but snapped up by a gamba player for her treble gamba. - 45.1 grams, only 62 cm: