Viola da Spalla bows
Here we're really in the dark! My own personal preference is for short, active light bows, that grab the string, but then release it to let the sound travel. Here is my favourite, made with cherry with a snakewood frog. It is 50.8 grams, 64 cm long: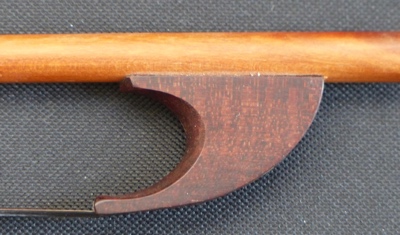 This bow is also available in beech, yew, plum, pear (or
Elsbeer
), and maple, each with its own characteristic sound and feel.
If you want a heavier version, I've also made this bow in ebony, ironwood and snakewood.